I can't help but feel like this website is calling me an amazon woman!
lol
If you go by the calculations on that site and their chart I am obese. If you know me I can safely say I am NOT obese. I am not even really overweight, a little jiggly? yeah
This one is a bit better..
Body Fat % 25.97
Lbs/Kgs of Body Fat 37.66
Lean Body Weight 107.34
Body Fat Percentage Categories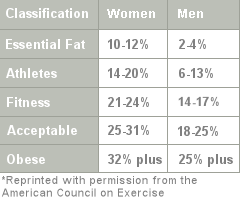 25.9